What's about the difference non-woven fabric gram weight? How many colors of non-woven fabric? Please see the below detail explain. Hope that you will clearly know these.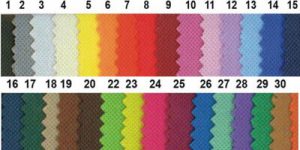 Totally about 30 different fabric color could be chosen by customers. Or you could specify Pantone No. , then we will math the similar fabric color for you.
Whether you doubt about how to distinguish different fabric gram weight? From the above photo shown, you could clearly see it. 30gsm-120gsm,thickness is much more compare with gram weight and fabric density is getting crowded together.
In that case, if you want to purchase the non-woven tote bags, except custom bag size, print, should check fabric color and gram weight (gsm). Have any question, please contact us. Many thanks!